We are thrilled to announce that the Retreat's Uniformed Service ProgramTM (USP) has re-opened as a REMOTE CLINICAL SERVICE!
The Retreat's Uniformed Service Program TM offers specialized training and support for men and women in uniform (active or retired) who are struggling with serious duty-related problems including PTSD, depression, and addiction.
What to Expect
USP Philosophy & Approach
Active and retired men and women from a variety of uniformed services participate in USP to address a variety of personal struggles involving things like post-traumatic stress disorder (PTSD), depression, stress, anxiety, abuse of alcohol and other drugs, and addiction. Our program allows you to receive care in the company of peers--people just like you -- who understand what it means to serve others.
When you begin USPTM, a trained staff member will orient you. You'll meet with your personal clinician to discuss what brought you to the program and your treatment goals. You'll also meet with a medical doctor to discuss treatment and medication options.
Throughout your experience in USPTM, you'll have one-to-one sessions with members of our staff to discuss your needs, review your progress, and develop a plan for care that will work for you after you leave the program.
Click here to download a copy of our USP Basic Informational Flyer.
One Program-Two Levels of Care
The Uniformed Service ProgramTM offers two levels of care to meet a wide variety of needs:
Partial Hospital--includes five groups per day and meets five days a week (Mon--Fri.) from 9:30 am to 2:00 pm.
Intensive Outpatient--includes three groups per day and meets five mornings a week (Mon.--Fri.).
Click here to download a copy of our USPTM Basic Informational Flyer.
Treatment in USP is delivered by skilled professionals using a variety of therapeutic techniques and evidence-based practices:
COMMUNITY: We believe that health and recovery happen through connection to others.  In group therapy sessions, we work together as a community to cultivate positive, supportive relationships.
COPING SKILLS: Often in our daily lives, we are confronted by many external stressors and challenges. We can also have difficulty tolerating our internal experiences (thoughts, feelings, sensations).  When we avoid, disconnect or resist them, we tend to feel worse and have a greater tendency to engage in activities that keep us stuck. We teach concepts and skills that are vital in helping to change your relationship to these experiences and develop a greater sense of meaning and purpose.
VALUES: We all experience situations we cannot control, behaviors that are hard to change, and intense emotions. This interferes with our ability to engage with what we care about such as family, friends, work, and self-care. As a result, we become stuck in a cycle of negative behavior that makes it harder and harder to achieve what we want in life. As a community we explore these triggers (thoughts, emotions, memories, physical pain) and ways we can commit to actions that are consistent with our values and personal goals.
MINDFULNESS: helps you develop a greater ability to focus on the present situation rather than getting caught up in regrets about the past or worries about the future.  This involves a variety of activities including guided meditation, guided movement, and training of physiological responses.
WRAP-UP: We encourage you to view treatment as a whole, not as individual groups/experiences.  Programming is designed to meet the unique needs of the individual as well as the community.  At the end of each day we discuss what has been learned that day, and set goals for activities that will reinforce the gains made in treatment, after treatment ends for the day.
Do I have to be a member of a uniformed service? Yes. You should be an active or retired member of a uniformed service, which includes law enforcement, fire, corrections, and military. Emergency medical service personnel, such as paramedics and emergency medical technicians are also eligible to participate in any of our programs. At admission, you must provide verification of your uniformed service, such as an active or retired identification card or discharge and separation papers (e.g., DD Form 214).
Does this mean I will only be with other uniformed professionals? Yes. You will participate in the program with men and women from the uniformed services whose professional experiences and desire to recover from duty-related issues is similar to yours.
How long is the program? Time spent in USP varies according to your needs and the level of care you require. Most people start in the Partial Hospital Program, and then step down to the Intensive Outpatient Program.
What are the program hours of operation? Program hours are 9:30 am to 2:00 pm, Monday through Friday. Program hours depend on the level of care:
Partial Hospital Program hours are 9:30 am to 2:00 pm, Monday through Friday.
Intensive Outpatient Program hours are 9:30 am to 12:00 pm, Monday through Friday.
Will my medical insurance cover the cost of the program? Insurance companies vary in the level of coverage provided. We provide insurance verification at no charge. Please contact a member of our Clinical Support staff at 802-258-3700.
Do the partial hospital and intensive outpatient programs involve mostly group therapy? Yes. You will work with your peers in supportive groups while focusing on your individual challenges. You will have an assigned clinician who will meet with you two times each week to discuss your specific needs and plan for care after you leave USP. You will also meet with a physician to discuss your treatment and medication options.
Is family education available? Yes. We provide remote family meetings during treatment to help you and your family address current concerns and develop a plan for care after you leave the USP.
What is a Tele-Health Program Like?
Treatment programs involving tele-health technology became necessary during the coronavirus pandemic. The approach has proven convenient, effective, and worth continuing as COVID-19 wanes.
Telehealth also makes treatment possible for many people who would be unable to travel to our Vermont campus for in-person care. Clients still participate in groups and get know one another (and their treatment providers) as they move through the program. Remote treatment connections via the internet are also secure and easy-to-use.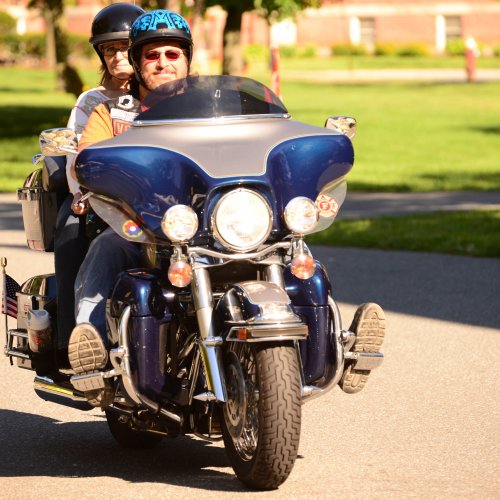 Jim McKay is a career firefighter and EMT with more than 30 years of service to his community. In 2011, he enrolled in the Uniformed Service Program at the Brattleboro Retreat.