NOTE: In order to prevent the spread of infection associated with the Coronavirus pandemic, the Retreat's Uniformed Service ProgramTM (USP) has been temporarily closed. Please contact our Admissions office at 802-258-3700 to find out if any of our other programs and services can meet your needs.
The Retreat's Uniformed Service Program TM offers specialized training and support for men and women in uniform (active or retired) who are struggling with serious duty-related problems including PTSD, depression, and addiction.
What to Expect
USP Philosophy & Approach
Active and retired men and women from a variety of uniformed services come to our private Vermont campus to address a variety of personal struggles involving things like post-traumatic stress disorder (PTSD), depression, stress, anxiety, abuse of alcohol and other drugs, and addiction. Our program allows you to receive care in the company of peers--people just like you -- who understand what it means to serve others.
When you arrive at USPTM, a trained staff member will orient you. You'll meet with your personal clinician to discuss what brought you to the program and your treatment goals. You'll also meet with a medical doctor to discuss treatment and medication options.
Throughout your stay in USPTM, you'll have one-to-one sessions with members of our staff to discuss your needs, review your progress, and develop a plan for care that will work for you after you leave the program.
Click here to download a copy if our USP Basic Informational Flyer.
One Program-Many Levels of Care
The Uniformed Service ProgramTM offers two levels of care to meet a wide variety of needs:
Partial Hospital--includes six to seven groups per day and meets five days a week (Mon--Fri.) from 8:15 am to 4:15 pm.
Intensive Outpatient--includes four groups per day and meets at least four days per week for a half-day.
Click here to download a copy if our USPTM Basic Informational Flyer.
Treatment in USP is delivered by skilled professionals using a variety of therapeutic techniques and evidence-based practices:
Mindfulness Training helps you develop a greater ability to focus on the present situation rather than getting caught up in regrets about the past or worries about the future.
Acceptance and Commitment Therapy (ACT) is an effective evidence-based practice used to treat a broad range of problems and conditions such as depression, anxiety, stress, and substance abuse. In treatment, you'll learn practical and simple ways to live a life that's aligned with your values and not controlled by painful thoughts, feelings, and memories of difficult experiences.
Relaxation Training utilizes different exercises to help you generate relaxation throughout your mind and body. All of the exercises focus on releasing stress and tension, increasing relaxation, and maintaining inner balance. Scientific evidence shows that the relaxation you experience in doing these exercises can extend to the rest of your daily life.
Breath Training involves learning and practicing good breathing techniques to improve your ability to bounce back from life's stressors and to perform better under stressful conditions. Breath training is an essential part of any effective life skills training or treatment program. Benefits of good breathing include deactivating the stress response, activating the calming response, generating pleasant feelings to live your values, increasing your situational awareness, strengthening your resiliency, improving sleep, lowering your heart rate, having less anger, and relieving pain.
Meditative Movement exercises focus on health, relaxation, energy, and vitality. You'll learn and practice gentle, energy activating, and slow flowing movements designed to release stress, tension, and tightness, and activate internal energy for improved performance.
Biofeedback Training uses scientific equipment to measure and return physiological information, such as heart rate. The new biofeedback and virtual reality training center provides an innovative, scientific, and effective approach to wellness. You'll learn and practice skills and fun ways to reduce stress, balance emotions, build resilience, and improve your performance at work, home, or wherever you are in life.
Wellness Activities are also a part of treatment in USP. It's common to become so absorbed in work or personal problems that we forget how to enjoy life. Our wellness activities are designed to help you re-discover doing things that are enjoyable and support your well-being. Fly-fishing, ice-fishing, hiking, and snowshoeing are just some of the activities that you may participate in during the program. The level of effort required is geared to each person's physical conditioning and abilities.
Do I have to be a member of a uniformed service? Yes. You should be an active or retired member of a uniformed service, which includes law enforcement, fire, corrections, and military. Emergency medical service personnel, such as paramedics and emergency medical technicians are also eligible to participate in any of our programs. At admission, you must provide verification of your uniformed service, such as an active or retired identification card or discharge and separation papers (e.g., DD Form 214).
Does this mean I will only be with other uniformed professionals? Yes.
How long is the program? The length of stay varies according to your needs and the level of care you require.
What are the program hours of operation? Program hours are 8:15 AM to 4:15 PM Monday through Friday.
Will my medical insurance cover the cost of the program? Insurance companies vary in the level of coverage provided. We provide insurance verification at no charge. Please contact one of our patient access coordinators at 802-258-3700.
Does my medical insurance cover the cost of lodging and food? No. However, you may check with your employer, union, or EAP regarding financial assistance.
Does the partial hospital and intensive outpatient programs involve mostly group therapy? Yes. You will work with your peers in supportive groups while focusing on your individual challenges. You will have an assigned clinician who will meet with you two times each week to discuss your specific needs and plan for care after you leave the USP. You will also meet with a medical doctor to discuss your treatment and medication options.
What should I bring with me when I join the program? You should bring enough seasonal clothing, hygiene, and healthcare products for at least 14 days. Pack clothing that is comfortable. Bring sneakers or footwear appropriate for recreational and outdoor activities.
Is family education available? Yes. We provide in-person and remote family meetings during treatment to help you and your family address current concerns and develop a plan for care after you leave the USP.
Convenient housing options are available. They include an on-campus dormitory, a local bed and breakfast, and local hotels. Click here to find out more about them. Our patient access coordinators can provide you with information.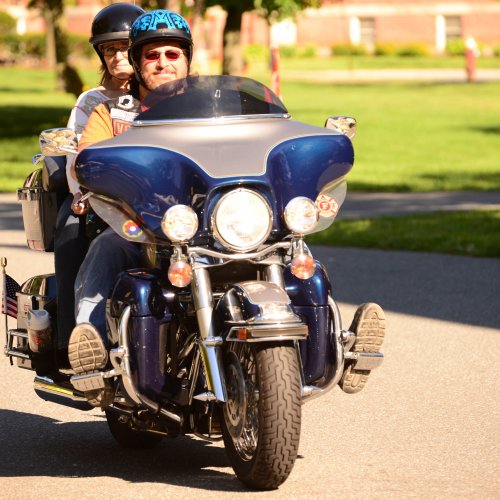 Jim McKay is a career firefighter and EMT with more than 30 years of service to his community. In 2011, he enrolled in the Uniformed Service Program at the Brattleboro Retreat.